Mouse Nest In Attic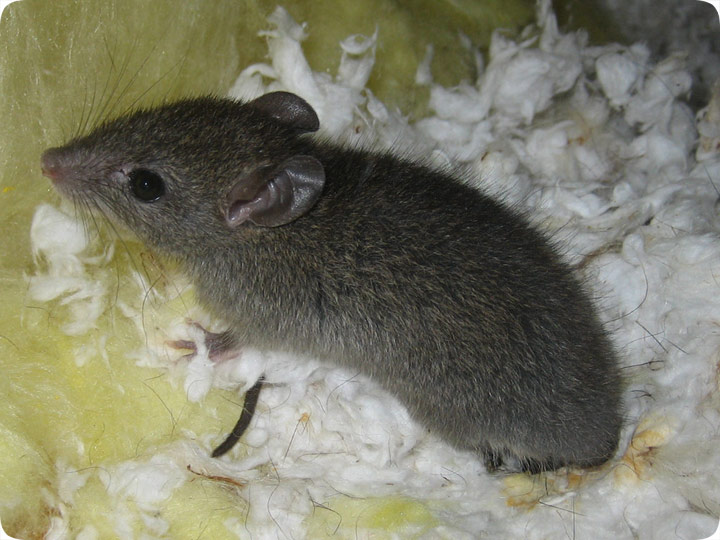 | | |
| --- | --- |
| | |
06.27.2006
- One of the reasons rodents such as rats and mice enter an attic is in order to have a place to create a nest and have babies. This is actually the primary reason certain animals, like raccoons and opossums use attics. Rodents tend to use attics regardless, but as with any animal, they create their nests in convenient and safe places, so if you have rats or mice in your attic, there's a good chance that some of the adult females have created nests.
I've seen several different rat and mouse nests in attics so far. The nest usually consists of a cluster of shredded debris, often loosely arranged or in a bowl-shaped form, like a bird nest. I've seen nests that consist of shredded newspaper, string, hair, and attic insulation.
The nest in this photo is below the mouse. She's sitting on the eggs in hopes of hatching them. Of course that's not true, and no rodent would defend a nest. Rats and mice will flee anything at the first slight sign of danger. Anyway, I once had a customer who was so ignorant about wildlife that she suggested that the raccoons in her attic would survive by eating insulation, and she was concerned that the raccoon would lay eggs up in her attic. There's a lot of ignorance about the wild animal world all around us (and in this case, above us), but that was a bit over the top for me.
If I see a rat or mouse nest in the attic during a rodent control job, I will remove it, but most of the time I do not find any nests, possibly because they are tucked away, hidden underneath insulation.
Do it yourself: Visit my How To Get Rid of Mice page for tips and advice.
Get professional help: Visit my Nationwide Pro Directory of wildlife removal experts.
For more wildlife stories, click my Wildlife Blog or click my below banner to hire a local trapper.