Animal on the Roof - Opossum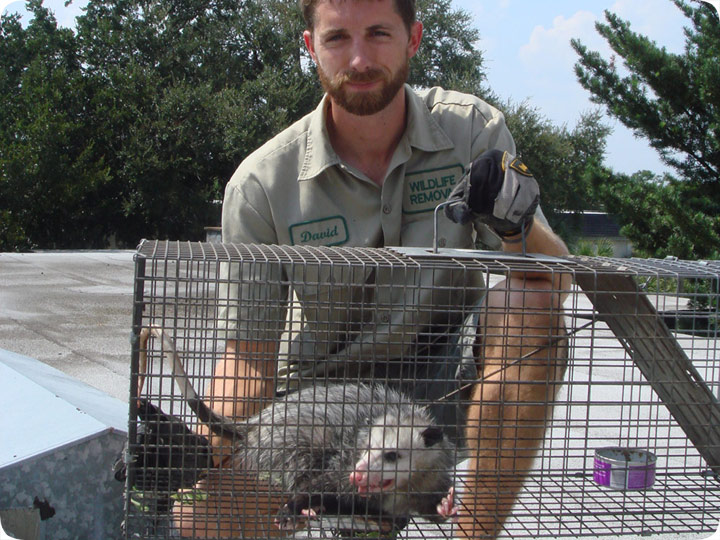 | | |
| --- | --- |
| | |
08.01.2005
- Most of my customers call me to complain about the noises that they hear an animal making. Most of the time, these noises are from animals living inside the attic or walls of a house. However, from time to time people hear animals scratching and clawing on the roof. I do many jobs in which I simply trap and remove animals that have a habit of spending time on the roof and making noise night after night. Some of the time these are animals that have incorporate a roof into their normal nighttime routine rout, but most of the time, the critter is on the roof because it is in fact nesting there or going into the attic
Animals nest on roofs if there's good habitat and shelter. If, for example, there's eaves or other architectural features to hide under, that'll attract animals. If there's a collection of debris, such as tree limbs and leaves, that will attract critters as well. If there's easy access to the roof, such as from an adjacent tree, that will also encourage animals to use the roof.
I deal with all sorts of animals on roofs. In this case, it was an opossum that I caught on a roof. This was actually at an apartment building, and not a private residence. You can see trees near the roof, and cats and possums were climbing up the trees and actually going in the attic of this building. They spent a lot of time on the roof as well, as evidenced by the tracks and droppings that I saw up there.
I set multiple traps on the roof. When roof trapping, it's very important to check the traps early each day. You can't leave a trapped animal on a roof with no shade from the hot sun, or it might overheat and die. I got this opossum this morning, and relocated it far away from any roofs.
Do it yourself: Visit my How To Get Rid of Opossums page for tips and advice.
Get professional help: Visit my Nationwide Pro Directory of wildlife removal experts.
For more wildlife stories, click my Wildlife Blog or click my below banner to hire a local trapper.