Orlando Wildlife Rehabilitation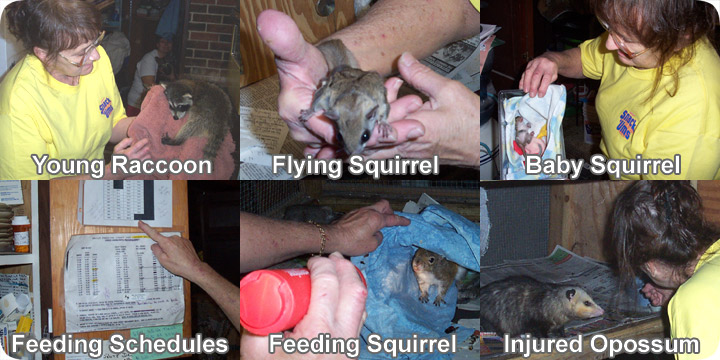 | | |
| --- | --- |
| | |
01.06.2004 - I'd like to introduce you to a wonderful woman. Her name is Lee Harr. For more than ten years now, she's operated a wildlife rehabilitation facility out of her own home. She pays all of the expenses out of her own savings. Her goal is to care for injured, sick, and orphaned wild animals. From raccoons to squirrels to birds and almost anything, she has a wonderful gentle touch and understanding of wildlife, and a relentless drive to help wild critters. She works non-stop, 16 hours a day, seven days a week, and she absolutely loves animals.

She takes a no-nonsense approach to rehabilitation, and wants what is best for the animals. She tough. She's not some weepy watery-eyed critter hugger. Her arms and legs are littered with scars, the scratches from handling wild critters for so long. She makes sure that all of the animals are properly fed and vaccinated, and she keeps a meticulous schedule and records. Her goal is to rehab animals and then release them in the best environments that will ensure their survival in the wild. She has a great deal of experience, and can handle everything from infant squirrels to adult raccoons with broken legs. She truly puts animals before herself, and she's a selfless and wonderful woman.

Lee is a lot of fun to visit, and fun to talk to! I first got in contact with her when I removed an injured wild bird from a house in Orlando. After I left with the bird, as I was on my way to Back To Nature Wildlife in east Orlando, I got a call from Lee. She'd heard about the bird, because the customer called her after I'd left, and Lee wanted to make sure that I was going to treat the bird right. Lee let me know that she operated her own wildlife rehab facility closer to downtown, and so I started to go to her any time I had an orphaned or injured critter.

Mostly, I've brought her baby raccoons and opossums that lost their mother. I run into this often. Additionally, people call me with various injured wildlife, and I refer them to Lee, or even pick up the critters and bring them to Lee's wildlife rehabilitation center in Orlando Florida. Lee always takes great care of the animals, and I'm very thankful that I've met her, as I'm sure are many of the critters she's saved over the years!


For more wildlife stories, click my Wildlife Blog or click my below banner to hire a local trapper.