Raccoon Drawing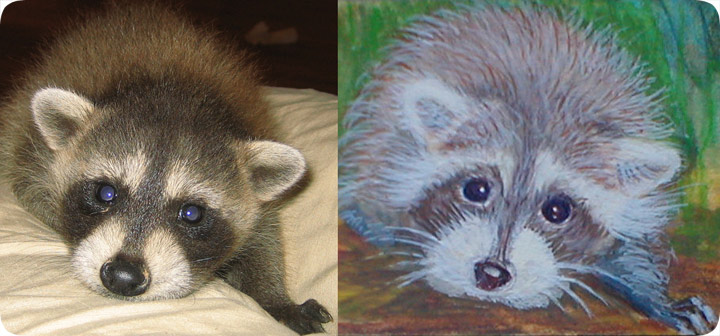 | | |
| --- | --- |
| | |
11.11.2007
- A couple of years ago I rescued a baby raccoon, as I commonly do. I put the photos of this raccoon on my website, as I also commonly do. The photos are located here
cute baby raccoons
if you want to see them. Anyway, a nice lady named Susan Smith wrote to me and asked if she could use my photos as inspiration to paint some wildlife pictures, and I said of course. I thought nothing of it until months later, when she emailed me a nice scan of a painting that she made out of one of my photos. I have put her painting and the original photo side by side for comparison. I do admit that I like the look of the original raccoon better. I think that baby raccoons are the cutest animals in the world. Her drawing, with the large, watery eyes made the animal look a bit more vulnerable, but the truth is that baby raccoons can often defend themselves if they need to. Of course, they usually don't need to, because big bad mama raccoon is always nearby to protect them. Anyway, I thought I'd post an example of Susan's painting, and I think she sells prints on Ebay if you'd care to search for them and buy them.
Do it yourself: Visit my How To Get Rid of Raccoons page for tips and advice.
Get professional help: Visit my Nationwide Pro Directory of wildlife removal experts.
Raccoon information - If you're looking for raccoon information there are many different resources on the Internet that can help you. The best information is not going to be on a website about personal success stories with removing raccoons or trapping raccoons; too many people can put nonsense on the internet and play it off like it's the truth. The most reliable information is going to be on a government website or a well-known encyclopedic website. If you're looking for information about how to get rid of a raccoon, a wildlife removal website will give you a little background on the animal as well as hints and tips about how to get rid of the pest. You'll quickly learn that an extermination site does not always mean a wildlife professional's site. There are a number of underhanded exterminators out there, making money off the public by going in, killing large numbers of pests, and leaving without addressing the real issues around the property. A good website will define the animal, detail its behaviors, walk you through the trapping process, and tell you why you're having a problem in the first place.
For more wildlife stories, click my Wildlife Blog or click my below banner to hire a local trapper.