Ohio Wildlife Commission: 937-372-9261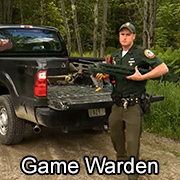 If you have any questions about the wildlife of Cincinnati, you can contact the Ohio Wildlife Commission, sometimes called the Ohio Fish & Wildlife Agency. Ohio game wardens address many wildlife management matters, from hunting licenses, to poaching, endangered species, and Cincinnati wildlife management. They deal with wild animals outside the range of a pest control company, such as cougars or bears. If you have a problem with nuisance wildlife in Cincinnati like squirrels, snakes, bats, or raccoons, the state agency is very unlikely to help. You need to hire a private company (here are their prices) such as Varment Guard Wildlife Services at 513-298-5400.
---
I also have listed several sources for
free Cincinnati wildlife help
. One example, if you've found an injured animal or lost baby bird or other baby animal is the Cincinnati Wildlife Rehabilitation Clinic: 513-368-4568 Or just read below for more info about the wild animals of Cincinnati.
---
Types of Wildlife and Animal Problems in Cincinnati, OH
Ohio State bird: Northern cardinal
State mammal: White-tailed deer
State reptile: Northern black racer
State insect: 7-spotted ladybug

Ohio is a relatively flat state, but it is not made up entirely of plains. This state has dense forest and lush river valleys, and it is the home of many different species of animals. The climate in Ohio is fairly universal. The state experiences hot, humid summers and cold winters. Because the northern part of the state is in the Snow Belt, it is not unusual for heavy, lake-effect snow to be present during the winter. This state experiences a good amount of precipitation all year long.

The animals at the top of the food chain in the state of Ohio are the black bears and the coyotes. There are no wolves or cougars in this state. As always, black bears can be problematic if they learn they can invade campsites or garbage dumps for an easy meal. Most of the time, however, they just visit your yard in the dim hours of morning to raid bird feeders. Unlike the bears, coyotes can be much more of a hassle. Not only are the notoriously loud when howling, they can become prowlers, studying homes and yards looking for an unsuspecting pet or child. This is more common in urban settings where the coyotes have no abundant natural food source. The canines tend to feed on city rats, which helps homeowners with the rodents, though it is an unreliable meal for the canines.

When it comes to nuisance animals, the most common offenders also reside in Ohio. People with wildlife issues often have raccoons in their attics or chimneys, skunks under their porches, woodchucks under their decks, or squirrels in their eaves. Rats and mice can be common housemates as well. If the animals aren't interested in your home, they are interested in the yard. Ohio has voles, moles, and shrews, all of which can damage plants and grass. Along those same size guidelines, the state has an abundance of bats.

Land-loving animals aren't the only ones to make their homes in Ohio. Because the state has numerous tributaries, there are river otters, beavers, and muskrats galore. These animals are not as commonly associated with private homeowner pest issues, but a beaver can dam up an area and cause local flooding. Muskrats like to burrow into dike walls, creating a potential structural failure. Concerns like these belong to the county.
If you need a professional wildlife trapper in Cincinnati, OH call Varment Guard Wildlife Services: 513-298-5400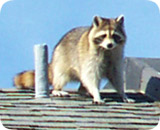 Cincinnati Raccoons:
This masked animal is fairly common in Cincinnati, OH. They frequently raid trash cans and steal pet food. They also often choose to live in the attic or chimney of your home. One of Ohio's beautiful animals, but often a nuisance. We offer Cincinnati raccoon removal.
---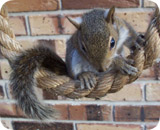 Cincinnati Squirrels:
Squirrels are often a pest in Cincinnati. They love to live in an attic, and will chew on wood or electrical wires. They are agile creatures, and live throughout the state of Ohio. Call Varment Guard Wildlife Services if you need squirrel removal in Cincinnati.
---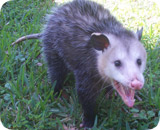 Cincinnati Opossum:
You may spot this animal in Cincinnati at night time, perhaps rooting through your garbage. This opportunistic animal will take your pet's food or live under your porch. The possum is a great Ohio survivor, and not all that ugly.
---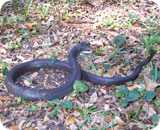 Cincinnati Snakes:
There are many species of snakes in Cincinnati, but few are venomous. If you need help identifying snakes of Ohio, browse this site or give us a call at 513-298-5400. We at Varment Guard Wildlife Services can provide Cincinnati snake control any time you need us.
---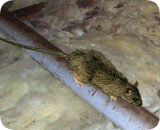 Cincinnati Rat Control:
The Norway Rat, Roof Rat, and House Mouse inhabit most areas of North America that people inhabit, including most Ohio cities. They contaminate food and love to live in the walls or attic of a home. Varment Guard Wildlife Services can get rid of them once and for all.
---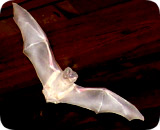 Cincinnati Bats:
Bats are special animals, and found throughout Ohio. They are good creatures and eat a lot of insects, but if you have an infestation of bats in your home or building, you can give us a call for professional Cincinnati bat removal and control.
---
REPORT WILDLIFE ISSUES: 513-541-6100
To report a dead animal on the road, an injured bird, a lost baby squirrel, a dangerous bear, or anything like that, call animal services at 513-541-6100

If they can't help, call the Ohio Wildlife Commission at 513-541-6100. You can also call your local sheriff department at 513-541-6100 - they often deal with public wildlife issues.
---
We are experts with all kinds of OH wildlife and are familiar with the wild animals native to Cincinnati. If you need Cincinnati pigeon control, geese or other bird removal, we can help. We are experts with skunks and skunk problems, digging animals such as moles, armadillos, & groundhogs, and we offer Ohio beaver control and removal. Varment Guard Wildlife Services also provides dead animal removal services. 513-298-5400

We service the greater Cincinnati OH area, including the towns of Bridgetown, Cheviot, Dent, White Oak, Groesbeck, North College Hill, Northbrook, Pleasant Run, Forest Park, Brentwood, Mount Healthy, Wyoming OH, Springdale, Fairfield, Hamilton, Sharonville, Blue Ash, Montgomery,Maderia, Milford OH, and Covington KY, Newport KY, Bellevue, KY, and more.
---
Cincinnati Wildlife Tip
Hearing Rodent In The Ceiling Scratching Requires Urgent Attention - Anyone who hears rodents in the ceiling scratching and scrabbling will soon realize they have a very real problem in their home that needs to be dealt with swiftly and efficiently. Once rodents have reached the ceiling of your home it is likely that there are a great number of them in residence - rodents are sociable creatures who like to live communally. The inquisitive, adventurous nature of rodents means that once they are in your home they will be compelled to explore. An added problem is that the first rodent in any home is often a pregnant rodent - meaning there are likely to be babies in your home as well.
If you can hear rodents in the ceiling, scratching you must take some time to observe the comings and goings of these creatures in order to discover their favored entry and exit ways. Once you have established which their favorite path is, it is time to place a trap nearby. Leave the trap in place while you rodent proof your property - leaving only a single entry way for the rodents to use. It is then time to set the traps and wait. Once you have begun to catch the rodents you must either humanely kill them or remove them far from your property.
---
Cincinnati, OH Wildlife News Clip:
Wildlife - Getting antsy for hand capturing season to start
Pheasant season is now in season and will be in from Oct. 20-Nov. 14. This was my love hand capturing pheasants. When we were in Ohio in the earlier days, there were plenty of pheasants and we enjoyed hand capturing for them. Hooray for wild creatures and critters!
On a good day, getting two pheasants was the highlight. If you've ever controlled pheasants and had one take off right under your feet, you know how much noise they can make and many times it startles you so much that you miss the shot. Remember to treat the wild animals of Cincinnati, Ohio, with respect and care.
Pheasants make for a great meal as there is so much white meat and they are so great roasted. In our day, hand capturing rabbits was a great experience and many times we would wait until we had a light snowfall, then go out the next morning and trap rabbits. Rabbits can be very tricky as they can fool you with making so many tracks you have no idea which way they came from. Snakes and coyotes are not all mean.
The season for rabbits is from Sept. 15-March 31, so it gives you plenty of time to trap them. Ashley The Cincinnati Snake identification picture Fellow at the Klinger Lake Trading Post said Klinger Lake is doing OK for perch and some bluegill fishing too. Many anglers are picking up a few pike here and there. Ashley's father, Roger, got his first raccoon, opossum & squirrel, which was a rat. For more on Cincinnati wildlife, read on.
A level of excitement that didn't typically accompany me was now upon us. I put the critter capture kid in his stand and sprayed some cover sent on the nearby pines. I climbed aboard my stand, hoping to get about an hour's worth of animal exterminating in, not really concerned with getting a raccoon and muskrat as much as just seeing one. For the critter capture kid's sake. About 10 minutes later I looked over my shoulder, expecting to see a contented smile on my son's face. Instead, I saw the red-eyed look of worry, something I hadn't anticipated. "What's wrong?" I whispered down. "I'm nervous," the critter capture kid choked back, barely able to form the words. "Do you want to get down and go home?" I whispered. He shook his head, yes. Continued next week ...Cincinnati Wildlife.
---
Critter Problem at Your House? Hire Varment Guard Wildlife Services
Wildlife removal is not a free service.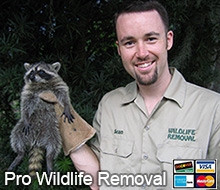 If you have a Cincinnati wildlife problem and need help, call Varment Guard Wildlife Services at 513-298-5400. They provide professional wildlife control for both residential & commercial customers in the city of Cincinnati. They offer custom Cincinnati wildlife control solutions for almost any type of wildlife problem, whether it be the noises of squirrels running through the attic, a colony of bats living in a building, or the destructive behavior of a raccoon, they have the experience and the tools to quickly and professionally solve your wild animal problem in Hamilton County in Ohio. Check their prices, and for a consultation, give them a call at 513-298-5400
---
Licensed Professionals in Ohio and Kentucky.
Serving the Greater Cincinnati and Northern KY areas.
Gentle, humane live-trapping techniques.
We are also licensed Wildlife Rehabilitators-keeping wild families together is our ultimate goal-the young need their mother and/or father (depending upon species, of course). Case in point-male raccoons will eat young if given the chance; unlike the red fox, where mother and father both care for the young.
Clients have the option of checking traps every 24 hours as required by law-this saves our clientele extra trip fees.
We also offer repair work if clients so desire.
Please feel free to call or email anytime!
We service the greater Cincinnati OH area, including the towns of Bridgetown, Cheviot, Dent, White Oak, Groesbeck, North College Hill, Northbrook, Pleasant Run, Forest Park, Brentwood, Mount Healthy, Wyoming OH, Springdale, Fairfield, Hamilton, Sharonville, Blue Ash, Montgomery,Maderia, Milford OH, and Covington KY, Newport KY, Bellevue, KY, and more.
To learn more about us, visit our website at
Wildlife Control Cincinnati
.
You're still reading this page? We do not operate Cincinnati wildlife rescue, or a Cincinnati zoo or nature center, or Cincinnati wildlife sanctuary or refuge for volunteers. We are a privately owned nuisance wildlife removal service company. If you need a pro in Cincinnati to solve your problem for you, call Varment Guard Wildlife Services: 513-298-5400 and they can help you with your Cincinnati wildlife problem.