Information about domestic and wild animal problems in Jackson County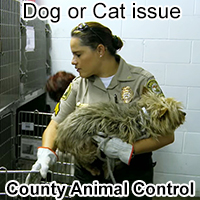 If you need assistance with a domestic animal, such as a dog or a cat, you need to call your local Jackson County animal services for assistance. They can help you out with issues such as stray dogs, stray cats, spay & neuter programs, vaccinations, licenses, pet adoption, bite reports, deceased pets, lost pets, local animal complaints and to report neglected or abused animals.
Jackson County Animal Services: (816) 513-9821
---
REPORT WILDLIFE ISSUES: (816) 513-9821 or 816-622-0900
To report a dead animal on the road, an injured bird, a lost baby squirrel, a dangerous bear, or anything like that, call any of these free government animal services:
Jackson County Animal Services: (816) 513-9821
Missouri Wildlife Commission: 816-622-0900
Kansas City police department: 816-234-5000
These agencies often deal with public wildlife issues or animal concerns where the public health or safety is involved, or other types of animal issues. These are free services.
---
Critter Problem at Your House? Hire Catch-It Wildlife & Pest Control, Inc.
Wildlife removal is not a free service.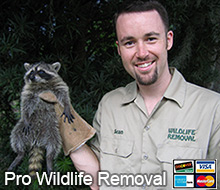 Jackson County does not provide free wildlife control services. If you want to pay for critter removal services, call Catch-It Wildlife & Pest Control, Inc. at 816-912-0296. They provide professional wildlife control for both residential & commercial customers in the city of Kansas City. They offer custom Kansas City wild animal control solutions for almost any type of wildlife problem, whether it be the noises of squirrels running through the attic, a colony of bats living in a building, or the destructive behavior of a raccoon, they have the experience and the tools to quickly and professionally solve your animal problem in Jackson County in Missouri. Check their prices, and for a consultation, give them a call at 816-912-0296
---
1. We offer the best animal control solutions for the best affordable price.
2. All we do is wildlife. We are a full service business with full time, well trained Wildlife Technicians on staff.
3. We are constantly keeping up to date on the latest trapping technology and techniques.
4. We are fully licensed and insured.
5. Wildlife biologist on staff.
6. Communication. All technicians are equipped with a cell phone and can answer any questions you may have at any time.
7. We follow all federal, state and local laws. All animals are treated humanely.
8. WE DO REPAIRS. Other companies do not offer this service. This keeps you from calling several companies to solve your problem.
9. We are competitively priced.
10. We provide a very professional, efficient, economical, much needed service to protect you, your family, your home and business.

It is important to remember that most county animal services in Jackson County and elsewhere no longer provide assistance in cases involving wild animals and wildlife management. If you have a wildlife problem or need to get rid of wildlife, need an exterminator or exterminating company, pest control or critter trapping or traps or wild animal prevention in Jackson County, you should call a privately owned wildlife removal company at this number: 816-912-0296

We also service the towns of Rich Hill, Amsterdam, Lone Jack, North Kansas City, Pleasanton, and rodent removal in Grandview, Edwardsville, Concordia, MO and wild animal services in Trimble, Mission, Waverly, Alma, Osawatomie, Gower, Camden, Liberty, and extermination services in Turney, Polo, Orrick, Independence, Archie, Smithville, Emma, and animal exterminating in Tonganoxie, Pleasant Valley, Bucyrus, Mission Hills, Lees Summit, Garden City, and snake removal in Plattsburg, Bates City, Kansas City, Platte City, New Century, Corder, Hillsdale, De Soto, Amoret, Lexington, Linwood, KS and wildlife management in Cameron, Blue Springs, Edgerton, Edgerton, Lansing, and wildlife trapping in Higginsville, Belton, Princeton, Rayville, Shawnee, Spring Hill, Pomona, and animal capture in Richmond, Waldron, Parkville, Pleasant Hill, Lenexa, Kearney, Greenwood, Westwood, Mayview, Excelsior Springs, Paola, Cleveland, Kansas City, Williamsburg, Wellington, Lake Waukomis, Foster, Fairway, KS.

---
Jackson County Wildlife Removal Tip:
Getting Rid Of Field Rodents my crawl space - You would expect to see rodents running around in the woods, but not so much in the big cities. The District of Columbia is one of the exceptions to the rule. There are plenty of rodents in the city especially in the parks and places like the National Mall. But field rodents should stay in fields and not in your home. There are some solutions for getting rid of rodents my crawl space people have tried, but a lot of them turn out to be ineffective. Because of the city atmosphere finding a store that sells rodent control equipment are not that easy.
Some national chains of big home improvement stores will carry traps, along with hardware stores but that is as much as you will find. Gun laws make sports and hunting stores rare except in the Virginia side of the District. So as far as the city of Washington, the best way to get rid of field rodents is often calling your local exterminator. You should do your research about how they trap the rodents or if they use poisons because not all pest control solutions are legal in the city. You also want to know if they will use humane or kill traps and express your preference.
---
Jackson County, MO Animal Control News Clip:
KANSAS CITY ANIMAL SERVICES - Jackson County: The Kansas City pest control specialist declared the proposed costs don't sound that steep compared to having to build a wildlife containment unit that could cost several hundred thousand dollars or contracting for services. Many questions have to be answered about the proposed tri-county wildlife containment unit, and more planning done, he declared. It's likely that the critter legislators will sit down with The nuisance wildlife trapper for further discussion, The Kansas City pest control specialist declared. At the December commission organized hearing there were concerns expressed about animal control from a different perspective. Janice Scott, who may be blind, and her guide raccoon, Newport, have been nearly attacked by stray raccoons when coming out of her home located off U.S. 41 in Kansas City. Three children and two adults have been attacked in her neighborhood, she told critter legislators, with one person having to get rabies shots. Scott declared she cannot afford to have her $27,000 raccoon replaced and wants to see some action taken now. Also at the organized hearing, the critter legislators approved the following: Appointments of James The Kansas City pest control specialist, wildlife management officer, and Thomas Palmer, vice wildlife management officer, to continue their positions. Rezoning of two hectares at 1651 male cooneye Road that will allow for smaller lot sizes for homes. Rezoning of 10 hectares from residential to manufactured home use at 4672 Housers Mill Road. The owner isn't planning any development, but needed to rezone because she may be applying for a loan and needed the classification changed to complete paperwork, critter legislators were told.
Remember, for a dog/cat problem, call (816) 513-9821, and if you need wildlife removal service in Jackson County, call Catch-It Wildlife & Pest Control, Inc.: 816-912-0296.