Information about domestic and wild animal problems in Davidson County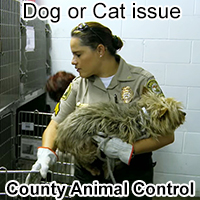 If you need assistance with a domestic animal, such as a dog or a cat, you need to call your local Davidson County animal services for assistance. They can help you out with issues such as stray dogs, stray cats, spay & neuter programs, vaccinations, licenses, pet adoption, bite reports, deceased pets, lost pets, local animal complaints and to report neglected or abused animals.
Davidson County Animal Services: 615-862-4017
---
REPORT WILDLIFE ISSUES: 615-862-4017 or 615-781-6500
To report a dead animal on the road, an injured bird, a lost baby squirrel, a dangerous bear, or anything like that, call any of these free government animal services:
Davidson County Animal Services: 615-862-4017
Tennessee Wildlife Commission: 615-781-6500
Nashville police department: 615-880-3000
These agencies often deal with public wildlife issues or animal concerns where the public health or safety is involved, or other types of animal issues. These are free services.
---
Critter Problem at Your House? Hire Animal Pros
Wildlife removal is not a free service.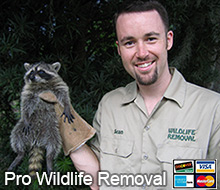 Davidson County does not provide free wildlife control services. If you want to pay for critter removal services, call Animal Pros at 615-866-2733. They provide professional wildlife control for both residential & commercial customers in the city of Nashville. They offer custom Nashville wild animal control solutions for almost any type of wildlife problem, whether it be the noises of squirrels running through the attic, a colony of bats living in a building, or the destructive behavior of a raccoon, they have the experience and the tools to quickly and professionally solve your animal problem in Davidson County in Tennessee. Check their prices, and for a consultation, give them a call at 615-866-2733
---



It is important to remember that most county animal services in Davidson County and elsewhere no longer provide assistance in cases involving wild animals and wildlife management. If you have a wildlife problem or need to get rid of wildlife, need an exterminator or exterminating company, pest control or critter trapping or traps or wild animal prevention in Davidson County, you should call a privately owned wildlife removal company at this number: 615-866-2733

We work all across Davidson County, including the towns of Nashville, Belle Meade, Forest Hills, Berry Hill, Oak Hill, and more.
---
Davidson County Wildlife Removal Tip:
How to catch a possum in the attic
Let's cut to the chase - you have a possum living in your attic and you want to get rid of it. Those footsteps that you hear at night - they are driving you mad, and it's time to get to war on these furry and rather ugly creatures, in the hope that once again, you can have a peaceful night's sleep!
One of the first options that you should look upon when trying to learn how to catch a possum in the attic is to call a wildlife expert. This is the easiest method, and although it might not be the cheapest, it will certainly get the job done right! Alternatively, you can put lights up in your attic. I hear you asking - why? Well, the answer is very simple. These possums are nocturnal animals so if you have the lights on - it will find another place to live! If your electricity bill is already pretty high, however, or you don't fancy having your attic lit up like an airport runway, you can try to catch the little critter.
Trapping and releasing of certain animals is illegal in some states, so make sure that you know the rules before you attempt this. Also, you will need to buy the right trap, bait it with the right food that the creature loves, and then find a new place to set it so that it can make a new home. We told you that hiring a wildlife control expert would be easier!
---
Davidson County, TN Animal Control News Clip:
Animal Services - Nashville and the Truth about Cats and Dogs
The Commission, which is endorsed by the humane community, provides a compassionate and intelligent voice for the powerless victims of our public shelters: the animals. For more information, call the animal services of Nashville, Tennessee.
The current commissioners-except for Mr. The Cat and Dog Exterminator--may not be experts on installing cameras to detect fake pizza deliveries, but they are experts on how to combat the violence perpetrated against the dogs, cats and other animals that we have a responsibility to protect. Davidson County animal control says it will continue to help with domestic animal issues, but not with Tennessee wildlife problems.
If Mayor The Domestic Pet Leader fails to honor his promise to fire Mr. The animal and dog veterinary specialist and to hire a compassionate and experienced General Manager who can implement a no-kill plan and reform the department, he may find that the animal community is politically-speaking The County Dog and Cat Control, more bite than bark. Animal and carcass removal services in Davidson County is dedicated to helping Tennessee and Nashville.
A decision to retain The animal and dog veterinary specialist is likely to become a permanent smudge on The Domestic Pet Leader's finely tailored lapel. The animal community expects the mayor to do the right thing. But in case he doesn't, they have forwarded this article to the Republican Party. Davidson County animal services in Nashville, Tennessee, declined to comment on the matter.


Remember, for a dog/cat problem, call 615-862-4017, and if you need wildlife removal service in Davidson County, call Animal Pros: 615-866-2733.