So! You're hearing some noises in your attic, and you don't believe in ghosts. Scratching, thumping, bumping, etc. If so, there's a good chance that you have animals in your attic. The below guide should help you identify what type of animal or animals are living in the attic of your house. This website also provides helpful advice and strategies to safely remove the wildlife from your attic, fix any damage they have caused, get rid of noise in the attic, and prevent the problem from happening again. If you need professional help, we service over 500 US cities & towns in 2020. Click here for your town, and a price quote for removing wild animals in your attic.

After you read below, learn: How Much Does Wildlife Removal Cost? - Who Should I Hire? - How To Do it Yourself!
SQUIRRELS IN THE ATTIC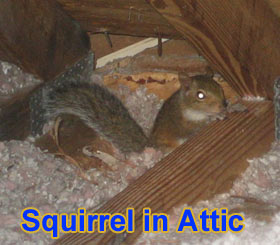 WHAT KIND OF NOISE DO SQUIRRELS MAKE? If you hear noises during the daytime, you've probably got squirrels. Squirrels are most active in the morning and evening, so most people report hearing the sounds at that time. Squirrels are fast and light, so much of the noise sounds like fast scurrying or running, usually in the attic, near the edge of the roof, and sometimes noise in the walls or chimney. Some people report hearing the rolling of nuts. There will be no vocal noises heard. Like all animals, squirrels have to go outside to eat and drink, so you often hear them as they exit and re-enter your house. The noise tends to become more pronounced in September and March, when the young squirrels are big enough to start running around, creating a lot of extra racket. Remember, when you think about what do squirrels in the attic sound like, it's going to be daytime noises, that's the best clue. Read squirrels in attic tips here.
RATS AND MICE IN THE ATTIC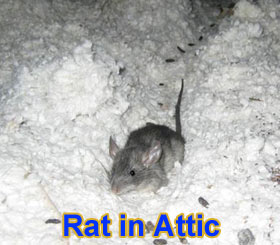 WHAT KIND OF NOISE DO RATS AND MICE MAKE? Mostly light scampering and running, across the ceiling or up and down the walls. If you hear noise in the wall, it's often rodents. They can be very fast, and you might at times think your mind is playing tricks on you. Rats and mice are nocturnal, so the noise is almost always at night. Sometimes the period of most noise is right after dark, as they leave the attic to go forage for food and water. Like all animals, rats and mice have to go outside to eat and drink, so you often hear them as they exit and re-enter your house. They also make nests in your attic, so you may hear repeated scratching and digging in one area, though in my experience this is rarely reported. Can you hear rats in the attic? Noises vary from sounding very faint, to actually very loud depending on house architecture and acoustics. Read more rat removal tips here.
RACCOONS IN THE ATTIC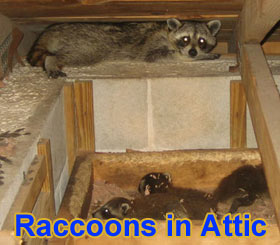 WHAT KIND OF NOISE DO RACCOONS MAKE? As large animals, the sounds are "heavier". You won't hear the quick pitter-patter of little feet. You'll hear heavy thumping and walking. Sometimes scratching, because raccoons often tear up duct work or wall paper or dig in the insulation to make a nest. Raccoons also make vocal noises, and baby raccoons, in particular, if they are in your attic, will make a very specific crying chatter. It's immistakeable. If you hear noises in the walls at night, and they're vocal noises, it could be a litter of baby raccoons. Raccoons are nocturnal, so most of the noise will come at night. Like all animals, raccoons have to go outside to eat and drink, so you often hear them as they exit and re-enter your house. What do raccoons in the attic sound like? Heavy thumping and walking, and unique vocal noises. Read more raccoon removal tips here, or more specifically, my raccoons in the attic guide.
BATS IN THE ATTIC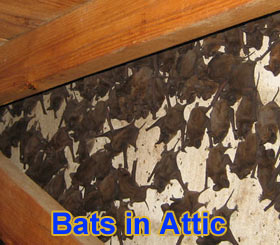 WHAT KIND OF NOISE DO BATS MAKE? If the group of bats is small, they will probably be silent, and you won't even notice them. The best way to find them out is by observing them exiting the building at dusk, or flying back in at dawn. However, if the colony grows very large, they will start to make a big racket as they fight for space to get out at night. They do make noises too high for humans to hear, but they also chirp well within the human range of hearing. When there's a lot of bats, they make a lot of racket as they line up to fly out of a small exit hole or gap. In big numbers, you can hear the noises in the attic or walls of bats scuttling around. What do bats in the attic sound like? Often not much, unless in large numbers, then you can hear their vocal chirps or scuttling down the walls. Read more bat removal tips here.
OPOSSUM IN THE ATTIC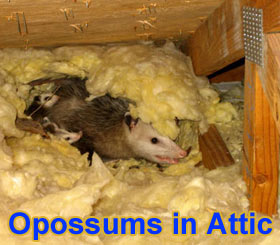 WHAT KIND OF NOISE DO OPOSSUMS MAKE? Not much, actually. Although they are large, they are pretty slow and quiet. The noises, if you do hear them, will sound somewhat slow and heavy, basically, like a bump in the night. Possums sometime go down walls, so if you hear noises in the walls, they may be the cause. They are nocturnal animals in the attic, so the noise will be at night. Like all animals, possums have to go outside to eat and drink, so you often hear them as they exit and re-enter your house. They also make nests, so you may hear them dragging nesting material, and it sounds like the noise is right on the ceiling. One problem that is very common with possums in the attic is that the babies separate from momma and crawl around and fall down walls, where they will make scratching sounds. Read more opossum removal tips here.


This page should have instructed you of how to identify what type of critter noises and problem you have, and how to remove wildlife causing noises in the ceiling. How to get rid of noise in the attic - for the most part, it is not a simple solution. Although many cheap products can be found that claim to work, they are a waste of money. And while you're dinking around with them, the animals are causing more contamination and damage in the attic. Some trapping jobs are simple, but removal of wildlife from attics is usually an involved process that requires important steps like identification, removal of baby animals proper trap or exclusion device setup in conjunction with the sealing of secondary access holes, sealing of every last potential hole on the house after the animals are out, and biohazard cleanup. I recommend that you
hire a pro
if you've got noises in the attic.
Scratching Sounds In the Attic or Walls: Have you been hearing some weird sounds coming from somewhere deep in your home recently? There's a pretty good chance that you have a visitor in your home. Unwelcome or not, it sounds as if there is a wild animal making those scratching sounds in the attic or walls, looking for somewhere to rest its head and rear its young.
There are a number of wild critters that could be causing the noises, but among the most common are things like squirrels, bats, rats, mice, raccoons, skunks, opossums, and birds. Most of these animals will make similar sounding noises scampering and scuffling around, but if you listen carefully, you may just be able to work out what the creature is, and hopefully take steps to get rid of it.
What to do about Scratching Sounds in the Attic or Walls... Are you listening to those noises at night? If it seems to get louder or more active when the lights go out, you've got a nocturnal visitor on your hands. It could be a bat, stuck in the walls, fluttering around disorientated and unable to get free. If you can hear squeaking sounds too, there's a pretty good chance it's a bat. In fact, there's a pretty good chance there's going to end up being more than one.
If the noise is coming from the walls or ceilings, you may have a rat or a mouse problem. If it worsens at night, especially during the winter, it's almost guaranteed to be a mouse or a rat problem. These little guys can get in the smallest of crevices and cracks, and have no problems chewing though their own little tunnels in the structures and foundations of your home, so you'll probably hear these somewhere deep within, occasionally squeaking, but mostly just ruffling around.
Can you hear a flapping noise coming from inside your walls, in your chimney breast, or in the attic? If it happens at any time of day or night, a bird may have gotten itself stuck. The wings may flap furiously, hitting the walls of the tomb it has found itself in, and you'll probably hear chirping noises too, as it desperately cries out for help.
Most larger animals such as raccoons and opossums will love to hang out in your attic, so if you happen to notice the noises right up at the top of your home, running back and forth along the floor, making the loudest noises you've ever heard a small animal make, the crafty critters could be the root cause. These tend to be the noisiest of creatures, and as well as hearing them in your home, you'll also hear them outside, tipping over your garbage can to get to what it thinks are delicious goodies inside.
Squirrels are another wild animal that will make a noise in your attic, and you'll hear a whole host of sounds coming from these little guys. Everything from jumping to scurrying, scratching, running, and even gnawing can be heard when you are trying to get to sleep at night, and when they come in and out of your home to find food, they'll make a hell of a racket.
Luckily, most wild animals will make quite the racket when they inhabit your home, so it won't be too long before you notice the issue and take steps to resolve it. Sadly, hearing the noise is the simplest part of this job, and you'll next need to figure out what is causing it, and where it is coming from. This will involve you mostly looking stupid, listening with a glass along the length and breadth of your walls, to try and figure out the chamber of secrets held within them.
Of course, you could always take the easy approach and call in the help of a professional. An experienced wild animal removal expert will be able to not only locate the critters much quicker than you ever would, but also work out the most effective way to get to it, or get it out, causing as little destruction as he (or she) can. Not just that, but any waste products and remnants will be cleaned away in the correct way, with enzyme cleaned that break down not just the waste products, but also the pheromones and scents left behind, discouraging any other critters to follow in its footsteps.
Here are some example emails that people have written me with animals in their attics:
Hello!! We are renting a house in Capitol Heights, Md. and are hearing noise in our walls and attic and ceiling, but we are not sure what we have. The first signs of a mouse were holes in the garbage bags but when I turned around I found the wood off the pantry-like shutter door torn Completely off. (It is a small room in the kitchen where the hot water heater is) What ever it is it loves that room. I also hear noise in the crawl space. Since then it or they (not sure) have busted holes threw the wall in that room. We set the sticky stuff and traps down and cannot catch it . I think its a rat and Its very frustrating and scary. Please call me my name is Tiffany or call Anton my husband his number is here. It even pried through a metal like plate my husband put up to cover the hole! Please call soon we are in need of a rodent exterminator immediately !!!!
HI, I BELIEVE MY ATTIC IS BEING TAKING OVER BY RACOONS. I HEARD THEM UP THERE LAST WINTER THUMPING SCRATCHING AND WALKING AROUND AND TRYED TO TRAP THEM AND WAS NOT SUCCESSFUL BUT BY THE SUMMER I NO LONGER HEARD THEM SO I FIGURED I HAD SCARED THEM OFF. I WAS NOT ABLE TO SECURE THE HOLE BUT I DID TRY MY BEST WITH METAL MESS WIRING. I REALLY NEED THIS PROBLEM ADDRESSED AS SOON AS POSSIBLE THEY ARE UP THERE AND THEY ARE LOUD. I HEAR FIGHTING ALOT . ITS KINDA SCARY TO WAKE UP TO THE SOUND OF SKRIETING ANIMALS ABOVE YOUR HEAD SO IF YOUD BE WILLING TO COME ASSESS MY SITUATION PLEASE REACH ME @ MY CELL PHONE, AND PLEASE LEAVE A MESSAGE YOUR CALL WILL DEFIANTLY BE ONE I RETURN. IVE TRYED YOUR NUMBER ON THE SITE BUT IT JUST RINGS UNTILL I GET A BUSY SIGNAL. I HOPE TO HERE FROM YOU SOON. HOPE YOU CAN HELP, VICTORIA
Hi, I have squirrels living in my roof for quite sometime now, as a matter of fact, they were there since we moved into the home ten years now. I hear them running in my attic and between the floors and in the crawlspace, during the day, mostly in the morning. I also sometimes hear noise in my walls of my house. When you catch your quitters, what do you do with them and where do you discard of them. Don't you have to get rid of them far away from where you caught them so as not to leave the scent from they feet and they come back or other squirrels or do you take them with you. I am from New York and really want to be rid of these pest, do you know of any one in the NY area that do what you do a real professional and licensed person. Please respond. Thanks. Gerdeen
Read other articles:
How To Clean Wild Animal Waste In Your Attic
How to remove a live animal stuck down a wall
How to get wild animals out of a wall