California Wildlife Commission: 916-445-0411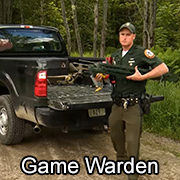 If you have any questions about the wildlife of Oakland, you can contact the California Wildlife Commission, sometimes called the California Fish & Wildlife Agency. California game wardens address many wildlife management matters, from hunting licenses, to poaching, endangered species, and Oakland wildlife management. They deal with wild animals outside the range of a pest control company, such as cougars or bears. If you have a problem with nuisance wildlife in Oakland like squirrels, snakes, bats, or raccoons, the state agency is very unlikely to help. You need to hire a private company (here are their prices) such as All N One Pest Eliminators at 925-478-4254.
---
I also have listed several sources for
free Oakland wildlife help
. One example, if you've found an injured animal or lost baby bird or other baby animal is the Oakland Wildlife Rehabilitation Clinic: 510-267-1915 Or just read below for more info about the wild animals of Oakland.
---
Types of Wildlife and Animal Problems in Oakland, CA
California State bird: California quail
California State mammal: California grizzly bear and the grey whale
California State reptile: Desert tortoise
California State amphibian: N/A
California State fish: Golden trout and Garibaldi
California State insect: California dogface butterfly

California is much more than just pristine white beaches and striking sunsets. The state, which actually has a good bit of snow despite rumors, is home to some of the most stunning landscapes in the country. As you might expect, this means it is also home to a host of interesting animals. Not only does California have dolphins and a huge population of seagulls, it also has large predators like grizzly bears. Unfortunately, because the state is such a hotspot for tourists, most of the animals in California have the potential to become pests.

There are some animals that seem to be present in almost every state, if not much of North America. Some of these critters, like raccoons, are also found in California. But while California has bats, coyotes, squirrels, rabbits, and other common wild animals, it also has some unique creatures that are not found in other areas of the country. Because of its classification as a coastal state, California must face the predicaments associated with a variety of sea lion and seal species. Most of these are shy toward people; however, the pups are common prey for larger animals like foxes and coyotes, animals that can pose a disease or attack threat to humans.

Southern California is notoriously warm for most of the year, despite the frigid temperatures and prevailing snow in the mountain regions. For this reason, many amphibians and reptiles thrive in the state. There are frogs and toads by the dozens, including the California chorus frog and the Cascades frog. There are also numerous salamanders, snakes, and turtles. The desert tortoise, the state's recognized reptile, can survive in areas with temperatures up to 140 degrees Fahrenheit.

As you can imagine, depending on the region of California, pest animals can appear from any species. People living near the coasts will find themselves more inundated with aquatic critters, while people in the rural mountain regions will wage war with bears and coyotes. Those somewhere in the middle will find a good number of venomous snakes, like the rattlesnake, and unlimited numbers of raccoons, skunks, and other scavengers. The most commonly removed critters are raccoons, bats, pigeons, skunks, and a variety of birds including woodpeckers, swallows, and seagulls. Like many other areas with a diverse climate, the west coast of the United States has one of the highest rates of human-animal conflict. This is not just because of the dense animal population, but more due to the dense human population that is continually growing.
If you need a professional wildlife trapper in Oakland, CA call All N One Pest Eliminators: 925-478-4254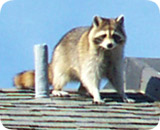 Oakland Raccoons:
This masked animal is fairly common in Oakland, CA. They frequently raid trash cans and steal pet food. They also often choose to live in the attic or chimney of your home. One of California's beautiful animals, but often a nuisance. We offer Oakland raccoon removal.
---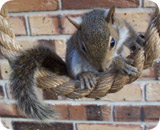 Oakland Squirrels:
Squirrels are often a pest in Oakland. They love to live in an attic, and will chew on wood or electrical wires. They are agile creatures, and live throughout the state of California. Call All N One Pest Eliminators if you need squirrel removal in Oakland.
---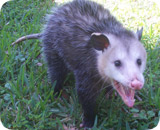 Oakland Opossum:
You may spot this animal in Oakland at night time, perhaps rooting through your garbage. This opportunistic animal will take your pet's food or live under your porch. The possum is a great California survivor, and not all that ugly.
---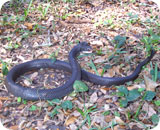 Oakland Snakes:
There are many species of snakes in Oakland, but few are venomous. If you need help identifying snakes of California, browse this site or give us a call at 925-478-4254. We at All N One Pest Eliminators can provide Oakland snake control any time you need us.
---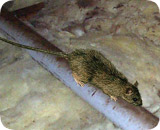 Oakland Rat Control:
The Norway Rat, Roof Rat, and House Mouse inhabit most areas of North America that people inhabit, including most California cities. They contaminate food and love to live in the walls or attic of a home. All N One Pest Eliminators can get rid of them once and for all.
---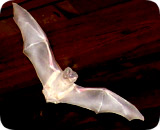 Oakland Bats:
Bats are special animals, and found throughout California. They are good creatures and eat a lot of insects, but if you have an infestation of bats in your home or building, you can give us a call for professional Oakland bat removal and control.
---
REPORT WILDLIFE ISSUES: (925) 803-7040
To report a dead animal on the road, an injured bird, a lost baby squirrel, a dangerous bear, or anything like that, call animal services at (925) 803-7040

If they can't help, call the California Wildlife Commission at (925) 803-7040. You can also call your local sheriff department at (925) 803-7040 - they often deal with public wildlife issues.
---
We are experts with all kinds of CA wildlife and are familiar with the wild animals native to Oakland. If you need Oakland pigeon control, geese or other bird removal, we can help. We are experts with skunks and skunk problems, digging animals such as moles, armadillos, & groundhogs, and we offer California beaver control and removal. All N One Pest Eliminators also provides dead animal removal services. 925-478-4254

We operate on the east side of the bay, from Piedmont to Alameda, to Moraga, and south to San Leandro, Ashland, Castro Valley, Hayward, Union City, and Fremont.
---
Oakland Wildlife Tip
Do You Have A Rodent In Restaurant - If you discover an infestation of rodents in your restaurant premises you must deal with it quickly and efficiently in order to avoid a detrimental effect on your business. The only guaranteed method of dealing with rodents - in a restaurant or anywhere else - is to trap and kill, or remove, them. It is all too easy to think there are more humane methods of dealing with rodents than using a trap - certainly, you may well see plenty of advertisements for 'guaranteed, fail safe' methods or rodent removal but the evidence for these methods is anecdotal at best.
Using a trap, provided it is done correctly, will indeed guarantee the removal of rodents from your restaurant premises. Once you have trapped and removed the rodents you will want to thoroughly inspect your home to make sure all possible places they are entering is sealed off from their being able to get in. Trapping rodents and ensuring they are all gone from your premises may take a little time but, since the results are guaranteed, it is time well spent. Once you have removed all the rodents it is essential that you release them far enough away from your home that they will not easily find their way back.
---
Oakland, CA Wildlife News Clip:
Oakland wildlife and rodent-critter and rat trapping debate gets pointed: A divisive debate has broken out among village residents and leaders over whether wildlife and rodent critter and rat trapping with Steel Critter Trap s and animal traps should be allowed from tree stands in three Oakland-on-Hudson nature preserves. Calls for one environmental leader in the village to resign and strong criticism over the plan have been heard around Village Hall as wrangling over the pilot program moves into its final stages. Many speakers at public meetings have questioned the Board of Trustees over its handling of the issue, claiming that critical analysis of the critter and rat trapping initiative has been brushed aside. Oakland would be second only to Pound Ridge in allowing it at the local-government level, though Westchester County permits Steel Critter Trap critter and rat trapping at two of its parks.
"I think this is a textbook case on how not to do citizen participation," said Joseph, a Oakland resident who served previously with the village's Conservation Advisory Committee. "I don't understand the urgency of coming in (passing legislation) this season." Bob The Nuisance Wildlife Control Operator, a regular commentator at village meetings, said, "I consider it putting the cart before the horse. ... There are too many unknowns. It's a rush to judgment." The state Steel Critter Trap critter and rat trapping season starts Oct. 16. Oakland Mayor Leo The Nuisance Wildlife Control Operator said a vote changing the local law to allow Steel Critter Trap critter and rat trapping and approving a management plan for the controversial program "may be this fall, or it may be next fall." But The Nuisance Wildlife Control Operator insists the village administration has been moving with diligence on the wildlife and rodent issue, noting it has been under discussion for more than two years. "My interest here is to follow the process," he said. "I'm not in a rush, but I do have a strong basis for thinking we have a deep problem we have to solve."
Proponents say the wildlife and rodent population needs to be thinned and that the village's woods are vanishing because of the animals' abundance. Critics say it would be cruel and inhumane, and they question its effectiveness. The village has identified three areas where it could allow Steel Critter Trap critter and rat trapping: Memorial Arboretum, which is village-owned land, and the Brinton Brook and Graff sanctuaries, which are administered by Saw Mill River Audubon. The Nuisance Wildlife Control Operator said the village board is awaiting a report and presentation from the CAC, its environmental advisory board, at its meeting Monday. Questions raised by residents about public safety and specifics on how the program would be managed will be addressed. The debate also has caused a public rift among village officials. Trustee Richard the Nuisance Wildlife Control Operator said Fran Skunk Trapper, who heads the Waterfront Advisory Committee, should resign if she can't fulfill her mandate and follow committee rules. Skunk Trapper cast the only "no" vote on the wildlife and rodent-critter and rat trapping program on the committee, citing what she said was a lack of information related to the project and its consequences - "there is no detail here." The Nuisance Wildlife Control Operator, who is also on the waterfront committee, said Skunk Trapper was motivated by "strong personal feelings" and ignored committee guidelines.
---
Critter Problem at Your House? Hire All N One Pest Eliminators
Wildlife removal is not a free service.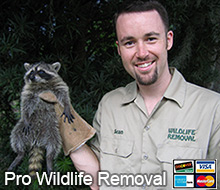 If you have a Oakland wildlife problem and need help, call All N One Pest Eliminators at 925-478-4254. They provide professional wildlife control for both residential & commercial customers in the city of Oakland. They offer custom Oakland wildlife control solutions for almost any type of wildlife problem, whether it be the noises of squirrels running through the attic, a colony of bats living in a building, or the destructive behavior of a raccoon, they have the experience and the tools to quickly and professionally solve your wild animal problem in Alameda County in California. Check their prices, and for a consultation, give them a call at 925-478-4254
---
Founded in 1852, Oakland, California is a major city with approximately 400,000 people. It is located in Alameda County, on the east side of the San Francisco Bay in Northern California. It is surrounded by Berkeley to the north, San Francisco to the west, and Alameda to the south. Back in the 70s, Oakland had a public reputation as a high-crime city with some of the highest ranking carjacking, robbery, assault, homicide and drug possession in California. However, in the last decade, the city has reduced its crime and increased its population due to the great location, weather, and high home prices. Tourist attractions in Oakland include the Oakland Museum of California, the Art Deco Paramount Theater, Chinatown, Jack London Square, Lake Merritt, Children's Fairyland, and McAfee Coliseum. We trap all the pest animals in the area, from Alameda down to Hayward. We also service the towns of Bethel Island, El Cerrito, and wildlife trapping in Orinda, San Ramon, Bay Point and also animal control in Pacheco, Alamo, San Lorenzo, Moraga, Newark, Discovery Bay, Clayton and pest control in Canyon, Castro Valley, San Pablo, and animal capture in Knightsen, and rat control in Piedmont, Byron, Sunol, Albany, Danville, Hayward, Pinole, Alameda and wild animal services in Richmond, Livermore, Concord, Crockett, Fremont, Pleasant Hill East Bay and wildlife management in Hercules, Brentwood, San Leandro, Kensington, Port Costa, El Sobrante, Emeryville, Diablo, and wildlife trapping in Pleasanton, Oakley, Rodeo, Walnut Creek. To learn more, visit oaklandpestanimalcontrol.com.

You're still reading this page? We do not operate Oakland wildlife rescue, or a Oakland zoo or nature center, or Oakland wildlife sanctuary or refuge for volunteers. We are a privately owned nuisance wildlife removal service company. If you need a pro in Oakland to solve your problem for you, call All N One Pest Eliminators: 925-478-4254 and they can help you with your Oakland wildlife problem.