How To Vacuum the Attic to Get Rid of Animal Waste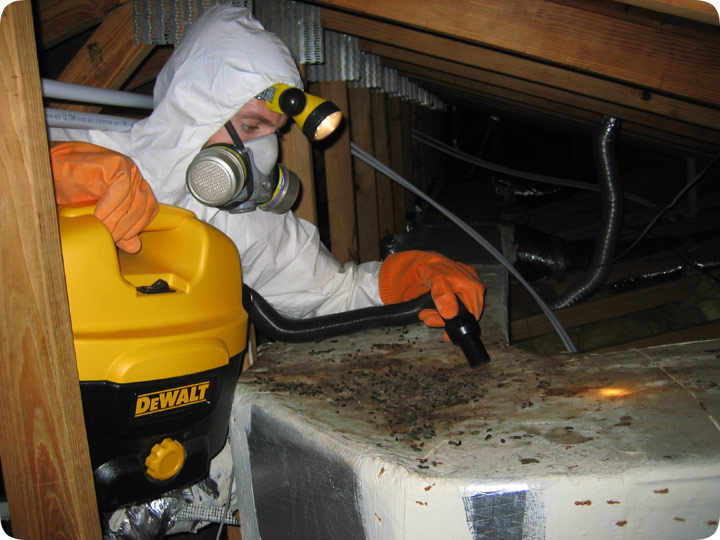 | | |
| --- | --- |
| | |
10.24.2003
- This attic was infested with rats. They left thousands of droppings throughout the attic. The homeowner wanted his attic cleaned, but did not want to pay for complete insulation replacement. Thus, I cleaned the attic manually.
It involved several steps. The first is to physically remove as many of the rat droppings as possible. This attic had rolled-out BAT insulation, which is easy to vacuum, unlike the blown-in loose fill insulation. In the above photo, we see that I'm vacuuming rat droppings off a duct and into a small portable vaccum. This type of vacumm is good for use in attics, because I can carry it about to all of the small nooks and crannies, and the suction power is not so strong that it sucks up insulation. It's good for picking off rodent poop off of the isulation.
After I remove as many droppings as possible, I fog the attic with an enzyme-based waste cleaner, such as BioShield or Bac-Azap. This destroys the remainder of the animal waste in the attic, and destroys the odor as well. The attic is now sanitary and the odor, which would have attracted new rats to the attic, is eliminated.
Do it yourself: Visit my Attic Decontamination page for tips and advice.
Get professional help: Visit my Nationwide Pro Directory of wildlife removal experts.
Cleaning your attic is a big part of pest animal removal. It is not enough to simply remove the animal from the home; all evidence of it must be cleaned from the site. Certain animals leave pheromones in their waste, and leaving any traces will result in other animals being attracted to the location. Cleanup is also important if you wish to eliminate the smell that accompanies wild animals. Only when all remnants of the animal have been removed will you be free from the odor, and even then sometimes the smell lingers. It is difficult to remove liquid from porous substances like plywood. If you use an enzymatic cleaner on these areas, it will make a significant difference. The other thing to remember about cleaning your attic is that you are eliminating the potential for disease. Feces carries with it certain illnesses, but the mold that grows on left over excrement will also be bad for your health. The last thing you want to do is to become hospitalized from breathing in Hantavirus particles. Make sure any items that can be thrown away are removed. This includes insulation which will hold on to urine and wet waste indefinitely.
For more wildlife stories, click my Wildlife Blog or click my below banner to hire a local trapper.