Crab Removal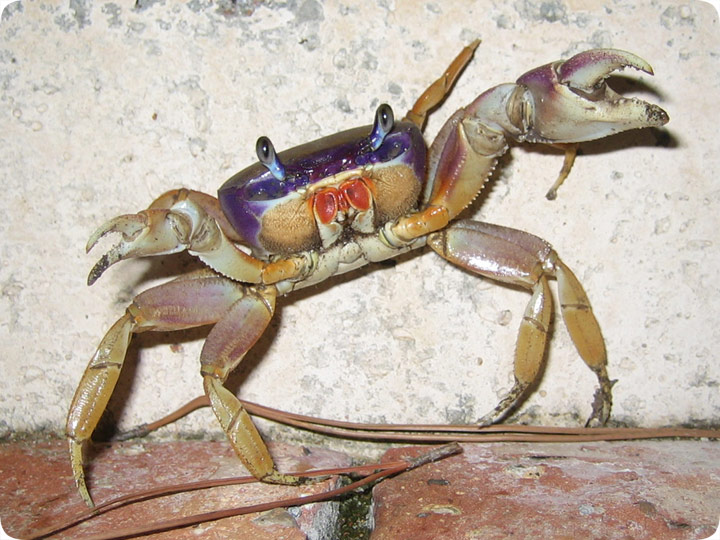 | | |
| --- | --- |
| | |
09.01.2005
- I was working on a bat removal project in Hobe Sound Florida, when something caught the corner of my eye. It was an odd shape and color, and it was moving unlike anything I'd ever seen before. "What in the hell is that?" I thought. I walked over for a closer look, and was amazed to see this crab. I do not know the species, but I believe it might be some sort of fiddler crab. The fact is that I had no idea that I was close to any body of salt water. In fact, I was still over a mile from the ocean. In addition, this house was surrounded by a large stone wall, so I didn't know how the crab got inside. I was really amazed to see it. I was also delighted at the whimsical eyes and defensive posturing and the bright and varied colors. It was just plain cool to see, and I was pleased as a peach, I tell you. After some photos, I decided to leave it alone, and I got back to my bat control project. I don't officially perform crab removal services, but if I had to, I think I'd do a fine job.
Do it yourself: Visit my How To Get Rid of Wildlife page for tips and advice.
Get professional help: Visit my Nationwide Pro Directory of wildlife removal experts.
For more wildlife stories, click my Wildlife Blog or click my below banner to hire a local trapper.