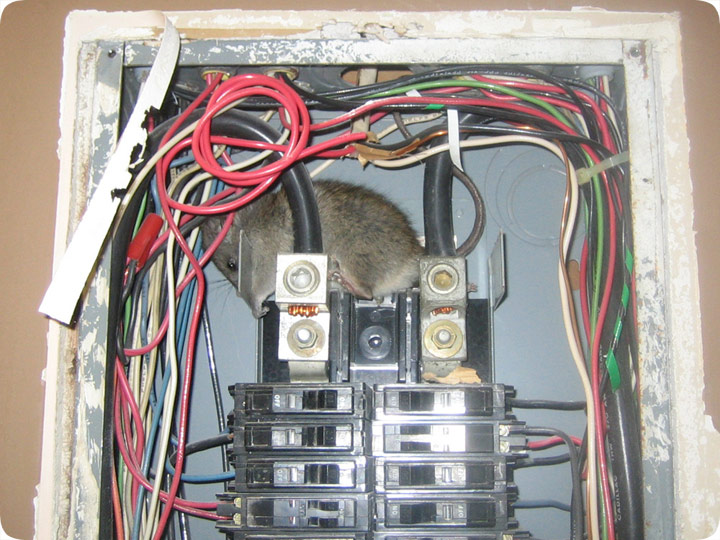 12.02.2005
- It is my job to find rats. I am a rat control expert, specializing in the extermination and eradication of rats. I have to find both living and dead rats, and in the case of living rats, make them dead. In this case, a circuit breaker box did the job for me. This job took place at a dental office. The dentist was finding rat droppings throughout the office, on the chairs, in the cabinets, and even on the dental picks and drill bits. These tools ended up in patient's mouths. Mmm!!! I was hired to solve the rat problem.
The first key to finding rats is to find out how they are getting into the building. They are expert climbers, and they can fit through extremely small openings. Thus, it's important to examine the whole building and identify every last possible entry hole leading inside the structure. At this dental office, I found missing screens in roof vents, open plumbing stacks, and worst of all, several sections of chewed-open soffit. Once I'd found all the openings, I was able to set traps at the points inside the attic where the rats were coming in. I caught and removed the rats, and sealed the openings shut.
However, during the process, there was a bad odor in the building, and it wasn't from the grinding of drill on decaying tooth. No, it was much worse. I smelled a rat, and it was tattling to the patients that this dentist had a rat problem. He did not like that one bit, and wanted the rat taken care of, by any means. I knew that all of my traps had been accounted for, I keep meticulous track. There were no misfires, but I smelled a rat, a dead rat. I sniffed through the whole office, and I suspected the odor most strongly in one area, and I crawled through the drop ceiling (this is an extremely difficult task, by the way, unless you are very light and agile), and sniffed and sniffed. This little bastard was really hard to find! I'm an expert at finding dead rats, but I couldn't find this one anywhere in the drop ceiling. I sniffed and sniffed - the whole place smells bad, and the air is flowing strong from all around, so it is not easy to pin down. Finally, I found what I thought was the jackpot area, and by looking down a little crack from the ceiling, I could see bits of rat fur and tail. I could not reach from the ceiling, so I went back down into the office, and I found that the area was the circuit breaker box! This rat had gone down there and electrocuted itself! I pried it out of there, sprayed a special cleaner, and the smell went away. I found the rat, and now the patients of this office can enjoy a wonderful rat-feces-free dental experience. If you need me to find the rat in your building, just give me a call.
Do it yourself:
Visit my
How To Get Rid of Rats
page for tips and advice.
Get professional help:
Visit my
Nationwide Pro Directory
of wildlife removal experts.
For more wildlife stories, click my
Wildlife Blog
or click my below banner to hire a local trapper.