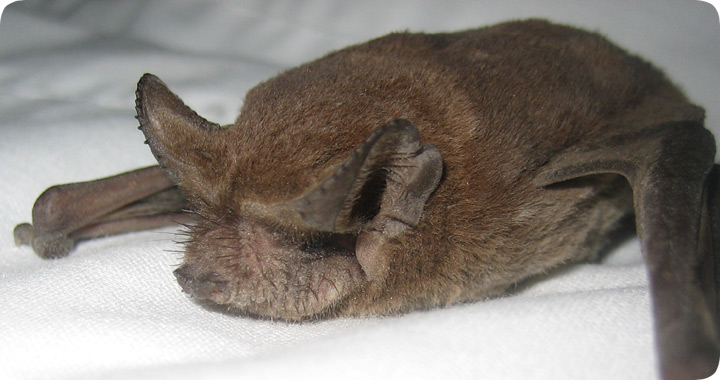 10.25.2003
- This is a fine close-up photo that I took of a Brazilian Free-Tailed bat that I removed while on a bat control project in Miami, FL. They are not nearly as cute as the other common Miami bat, the Evening Bat. Notice the simian brow ridge, the pig-like nose, and the bristling whiskers all about the paunchy face. Yet, the mother bats still take care of the young. Isn't nature a marvel!
This particular bat was one of many that I removed from a Miami apartment complex. Most are removed without being touched, but this one accidentally made its way into the home, got dehydrated, failed to find a toilet to drink out of, and ended up flopped in the corner, exhausted, where I picked it up. Please do not pick up a bat. It might be rabid. This one was not, but I still took precautions, I was still gentle, and I know a rabid bat from a dehydrated bat. I just know.
I don't usually perform Miami bat removal, but as is always the case, I'll drive a far distance for larger projects. This was a large apartment building with a significant infestation, and it took over a week to complete the project. I've gotten calls for bat removal in all of Miami-Dade County, including requests for Hialeah bat removal, Hallandale Beach, Hollywood FL, North Miami Beach, Coral Gables, Pembroke Pines, and more. However, I rarely go to these areas, and usually just tell people to check my nationwide directory for a professional bat removal company in southeast Florida.
Click the link below if you need to hire such a company. Don't look for bat extermination in Miami, you don't want a bat pest control company, you want a professional bat removal exclusion professional, preferably certified by Bat Conservation International. I'd be happy to come to SE FL to perform bat exclusions, but I can't justify the travel time unless it is for a large project.
Anyway, I released this particular specimen by tossing it in the air near a lake, and it promptly swooped down to have a drink (bats skim water off of the surface). I think it ended up okay.
Do it yourself:
Visit my
How To Get Rid of Bats
page for tips and advice.
Get professional help:
Visit my
Nationwide Pro Directory
of wildlife removal experts.
For more wildlife stories, click my
Wildlife Blog
or click my below banner to hire a local trapper.