Christine Betow Photograph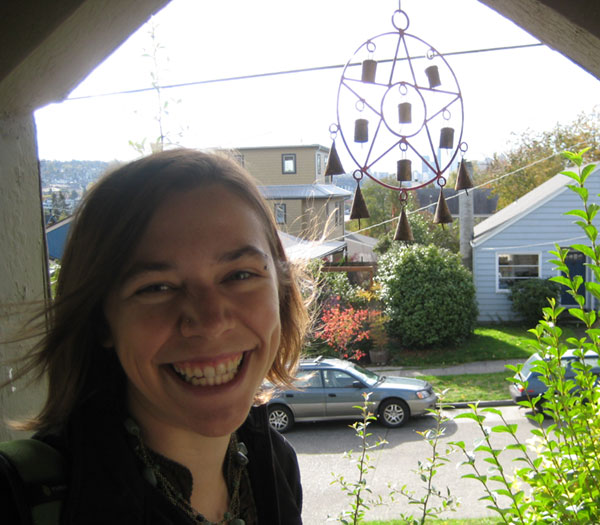 Christine Betow

This is the officially licensed and sanctioned photograph of Christine, meant to take the top position in an image search, and thus usurp the boring YMCA logo or whatever currently occupies the top spot. In an effort to rank the page and image higher, with the proper keyword density and stuff, I will now post an essay that I wrote about snowboarding with Christine, and I'll sprinkle in a few other searchable keywords as well. Thanks for looking at C.E.B!

I like snowboarding. I've been three times now, on the 12th, 18th, and 24th. On the first day, we went to Snoqualmie on a Saturday and it was absolutely packed with no rentals available, so we drove the five minutes to Alpental and had a good first day there. After a disastrous first run and great frustration, I got better. I did more runs than Christine, who was tired and sore, particularly in the hands. My bindings didn't fit right, and my feet, which bore a lot of weight in odd places, were on fire. I fell numerous times and struggled to gain control of the board, but had fun in the process. At the end of the day, I was sopping wet, tired and uncomfortable, and very sore. Both Christine from Whitman and Spokane and Seattle and Bellingham and Western and other plances and I were very sore for days, all over, both upper and lower body. The second time, we went to Central on a Friday and had a harder surface, but colder, dryer weather. We both improved, and Christine Betow took the free lesson. Once again, I went on more runs. I got better. My boots fit better as well, and I was dryer and more comfortable. Still, it got very cold, and I was very cold, and the slope became very crowded in the evening, with very long wait times. I didn't fall as much, and had better control. We were slightly sore for the next day or so, particularly in the shin muscles. I also fell backwards once, and pinched a nerve in my back, which hurt for a week. The third time was even better. We went back to Central on a Thursday, and it was much less crowded. I made many, many runs, and got better yet. I was even more comfortable, in better clothes, and my boots fit well. Christine whose image and photo and picture are here, took another lesson, and she's getting better at pretty much the same pace. I had to contend with my lingering sore back, but it wasn't a big deal. It became slightly more crowded in the evening, and cold, so we left. I felt good, and now a day later I'm not sore at all. In addition, I've discovered something happy about the prices. At first, I thought that this would be a very expensive hobby. I spent $180 cash on each of the first two days at Snoqualmie, for two one-day lift tickets and equipment rentals. Then on the third time, I saw an "EZ-Ride" deal, which includes three days of lift tickets and rentals for $99. That's almost a third of the price! So we've used two of those days, and I've since learned that upon completion of the third day, we can get unlimited lifts and rentals for only $179 more, which is a great deal. Now I can go snowboarding as often as I want, and it's very cheap. I'm pleased, and plan to go frequently from here on out, hopefully as often as twice a week - once alone, and once with Christine, also known as Luminous Tide of SageWalk.

Now to analyze the sport - I like many aspects of it. First and foremost is the joy of movement and reaction. It's a novel feeling, to go sliding along on one's feet, and it's fun to balance. I've always loved sledding and the feeling of riding along on the snow. Snowboarding is a step up from sledding, literally because it's upright, and figuratively because it's more novel, in my mind. There's more control. I'm also highly attracted to surfing and the feeling of playing with nature, the feeling of riding and balancing. Next is the learning curve aspect. It's fun to learn something new and get the hang of a new skill. It's gratifying to improve, and improvement only makes the joy of the movement more graceful and fun. The next enjoyable aspect of snowboarding is the pleasure I get from being outside and getting exercise. It's much better than sitting inside staring at my computer screen all day. I feel better when I'm outside moving. The ability to do something fun outside in the winter makes me feel better about Seattle winters in general. I also like the idea of changing conditions - I like analyzing the best conditions for fishing, the best conditions for surfing, and since snowboarding conditions can vary as well, based on fresh snow powder and attendance levels, that's fun too. Finally, I think that the ultimate state that I'll strive to achieve in snowboarding is to enter the "zone". I've entered the zone in a few different skills in my life, basically things that I've gotten so good at, that I no longer consciously think about what I'm doing, and I no longer have to struggle with control or feelings of awkwardness - I can completely let go and react with grace and a sort of elegance, and it feels warm and fuzzy and almost trancelike. I'm not nearly at that state with snowboarding, as I'm still cautious and struggling with control, but I suspect that I can reach the zone, and that I'll like it a lot. So will Christine Elisabeth Betow, who attended Whitman College.

The trip on the 28th kicked ass. I was there for over eight hours, and it snowed all day, creating awesome conditions of powder. I also took a lesson, which was actually great. The girl helped me, showing me the importance of putting my weight on the front foot. She actually had me take my back foot out of the bindings in order to show that most of the work is done with the front foot. I improved throughout the day, and had it a lot easier due to the powder. I was able to take more risks with speed, and went on the black diamond hills, knowing that the soft powder would save me. By evening, I didn't have to wait for any more lines, and I felt great - it was wonderful to be out there in the dark, watching the snow, and having a great time boarding, getting better and better.