Florida Snake Prevention Service Pricing:
If you have a persistent problem with snakes, or have been finding snakes repeatedly inside your home, I can provide you with snake prevention services. I modify the habitat and treat the area with a repellent in order to keep snakes from the area. If you have found a snake in your home, I will identify and eliminate the point(s) of entry. The price of this total treatment is $200.00 and includes the following:


Full property sweep and removal of any present snakes.
Full home search for any snakes inside the home.
Seal off any snake entry points into the home.
Set snake traps inside the home.
Habitat modification: eliminate areas that attract snakes.
Snake repellent application around perimeter of home/property.
Inform and educate homeowner about snakes, and how to identify the dangerous ones.
If you live outside of the greater Orlando area, these same fees apply, in addition to a time/travel expense fee of $1.00 per mile round trip from downtown Orlando.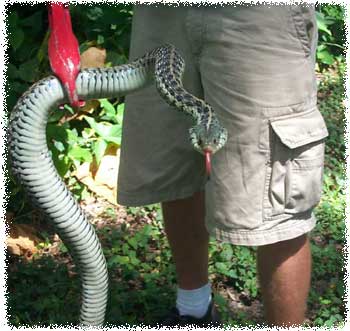 Call 407-278-2705 if you wish to hire me to take care of your snake problem.



To read more about snake control, go back to the snake removal page.