Need wildlife removal in your hometown? We service over 500 USA locations! Click here to hire us in your town and check prices - updated for year 2020.

What is rabies and how do people get it?
Rabies is an infectious viral disease that affects the nervous system of humans and other mammals. People get rabies from the bite of an animal with rabies (a rabid animal). Any wild mammal, like a raccoon, skunk, fox, coyote, or bat, can have rabies and transmit it to people. It is also possible, but quite rare, that people may get rabies if infectious material from a rabid animal, such as saliva, gets directly into their eyes, nose, mouth, or a wound.

Because rabies is a fatal disease, the goal of public health is, first, to prevent human exposure to rabies by education and, second, to prevent the disease by anti-rabies treatment if exposure occurs. Tens of thousands of people are successfully treated each year after being bitten by an animal that may have rabies. A few people die of rabies each year in the United States, usually because they do not recognize the risk of rabies from the bite of a wild animal and do not seek medical advice.

Why should I learn about bats and rabies?
Most of the recent human rabies cases in the United States have been caused by rabies virus from bats. Awareness of the facts about bats and rabies can help people protect themselves, their families, and their pets. This information may also help clear up misunderstandings about bats. When people think about bats, they often imagine things that are not true. Bats are not blind. They are neither rodents nor birds. They will not suck your blood -- and most do not have rabies. Bats play key roles in ecosystems around the globe, from rain forests to deserts, especially by eating insects, including agricultural pests. The best protection we can offer these unique mammals is to learn more about their habits and recognize the value of living safely with them.

How can I tell if a bat has rabies?
Rabies can be confirmed only in a laboratory. However, any bat that is active by day, is found in a place where bats are not usually seen (for example, in a room in your home or on the lawn), or is unable to fly, is far more likely than others to be rabid. Such bats are often the most easily approached. Therefore, it is best never to handle any bat.

What should I do if I come in contact with a bat?
If you are bitten by a bat -- or if infectious material (such as saliva) from a bat gets into your eyes, nose, mouth, or a wound -- wash the affected area thoroughly and get medical advice immediately. Whenever possible, the bat should be captured and sent to a laboratory for rabies testing (see: How can I safely capture a bat in my home?).

People usually know when they have been bitten by a bat. However, because bats have small teeth which may leave marks that are not easily seen, there are situations in which you should seek medical advice even in the absence of an obvious bite wound. For example, if you awaken and find a bat in your room, see a bat in the room of an unattended child, or see a bat near a mentally impaired or intoxicated person, seek medical advice and have the bat tested. People cannot get rabies just from seeing a bat in an attic, in a cave, or at a distance. In addition, people cannot get rabies from having contact with bat guano (feces), blood, or urine, or from touching a bat on its fur (even though bats should never be handled!).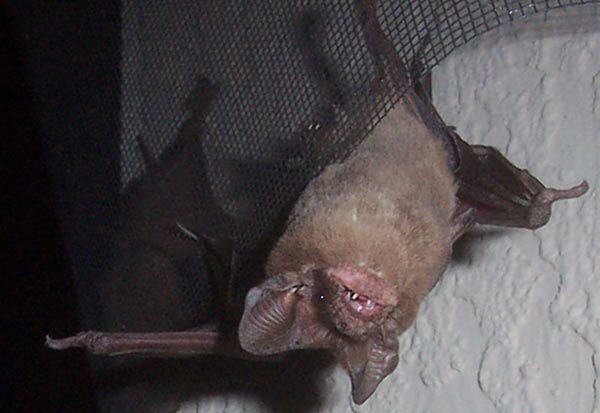 AAAnimal Control is a professional nuisance wildlife control company located in Orlando, FL. We offer solutions to wildlife problems throughout the Greater Orlando Florida area, and specialize in bat control. We offer professional bat control & removal for the entire state of Florida. For more info, go back to the bat removal page. Wildlife services include animal trapping, capture & removal, plus animal damage repairs and preventative measures. We also offer biological cleanup and many other services. Give us a call at 407-729-6946 any time to discuss your wildlife management issue and schedule an appointment. You can always browse this site for more details and info, and you can even check out prices ahead of time. If you live elsewhere in the US and have found this site and need a local trapper in your area, click here for a nationwide list of 100's of professional bat removal experts.