Need armadillo removal in your hometown? We service over 500 USA locations! Click here to hire us in your town and check prices - updated for year 2020.

Armadillos dig for all of their food. That is why people with armadillos on their property experience so many holes in their lawns and landscaping. They sniff around the ground until they detect worms or grubs, and then they quickly dig with their sharp claws. They can really make a mess of a yard, and that's when you need armadillo trapping.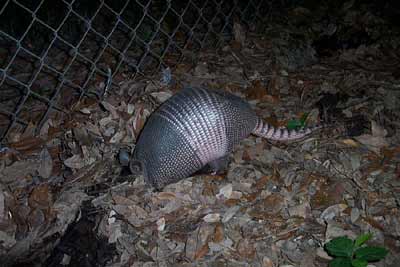 Go from this.....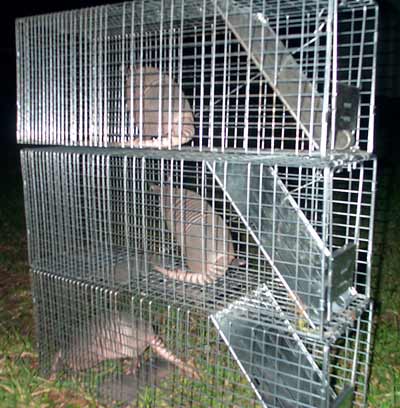 ....to this!
Because they dig for all of their food, there is no good bait for them. Some people try to use different types of baits, but baits don't work. The real key to catching armadillos is in the trap setup. Traps must be set in the proper location and manner so that armadillos will simply walk in. This involves an extensive knowledge of armadillo behavior and movement patterns, and also usually involves a trap setup involving elaborate fences or barriers. I've seen many people wondering how to catch armadillos, and I see that their trap setups are all wrong. Some professional trappers do in fact use baits, (examples include earthworms hung in a nylon stocking) but the only reason they are catching armadillos is because they are also setting the traps in an effective manner. No bait works.
Some people have asked me, "can't I kill the grubs in my lawn to get rid of armadillos?". You can in fact kill some grub species, but the truth is that the majority of an armadillo's diet is comprised of earthworms, so killing the grubs alone will not eliminate the food source entirely, and it won't stop the digging. If you want the digging to stop, you've either got to fence your entire yard (and install the fence deep into the ground) or have the armadillos removed from the property.
For armadillo trapping information, go back to the armadillo removal page.
After you read the below information, you may want to click on one of these guides that I wrote:
How much does armadillo removal cost? - get the lowdown on prices.
How to get rid of armadillos - my main armadillo removal info guide.
Example armadillo trapping photographs - get do-it-yourself ideas.
Armadillo job blog - learn from great examples of armadillo jobs I've done.




AAAnimal Control is a professional nuisance wildlife control company. It is my goal to provide information so that you can solve your wildlife problem in an effective and responsible manner. Wildlife services include animal trapping, capture & removal, plus animal damage repairs and preventative measures. We also offer biological cleanup and many other services. You can always browse this site for more details and info, about armadillo removal. If you live elsewhere in the US and have found this site and need a local trapper in your area, click here for a nationwide list of 100's of professional armadillo removal experts.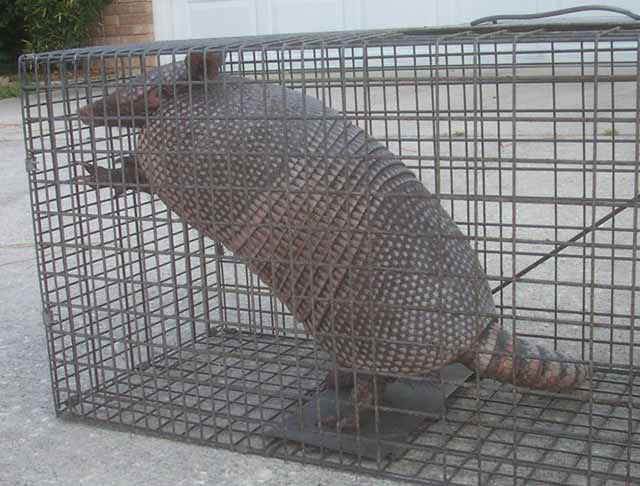 Here is an armadillo trap, with an armadillo inside.
Armadillo Letter:

HELLO. I SAW A LARGE BASKETBALL SIZE HOLE UNDER MY GRANDDAUGHTERS PLAYHOUSE THE OTHER DAY. NOT SURE HOW LONG IT IS THERE, MAYBE WEEKS. I WAS MOWING. NEXT DOOR NEIGHBOR'S DOG BARKS WILDLY AT NIGHT, BUT HE NEVER BARKS IN GENERAL. SO I WAS SURPRISED. IF IT IS ARMADILLO, THEY CAN CARRY LEPROSY? TRUE? I WORRY ABOUT THIS HOLE AND THE CRITTER IN THERE. THERE ARE LARGE SCRATCH MARKS IN THE DIRT WHERE IT LOOKS LIKE IT DUG UNDER OUR WOOD GATE BY THE HOUSE OVER A MONTH AGO WHEN I NOTICED THIS. MY HUSBAND SAYS NO ONE CAN GET IT. WELL, I AM NERVOUS ABOUT WHAT IT IS IN THE GROUND. LIVING IN PENSACOLA, FL, IN A RESIDENTIAL AREA FOR 28 YEARS, SOME WOODS IN THE BACK ABOUT 150 FEET AWAY FROM OUR HOME. WE HAVE ONLY HAD RATS, SNAKES, AND POSSUMS ON RARE OCCASSIONS. CAN YOU SEND US A BROCHURE ON THIS TOPIC SO MY HUSBAND CAN SEE THERE IS SOMETHING WE CAN DO. I DON'T WANT TO WAIT TOO LONG BECAUSE BABIES CAN COME OUT OF THIS HOLE. THEN, WE WILL HAVE A MAJOR PROBLEM WORSE THAN DOING NOTHING. I WOULD APPRECIATE A CALL OR INFORMATION THROUGH THE MAIL RATHER THAN E-MAILING US. I HAVE NO PRINTER TO PRINT OUT INFORMATION FOR MY HUSBAND TO SEE. HE WON'T DO ANYTHING BECAUSE HE IS STUPID IN MY OPINION. HELP, HELP, HELP!!!!!!!!!!!!!!!!!!!!!!!!!!!!!!!!!!!!!!!!!!!!!!!!!!!!!!!!!! SINCERELY, HELEN