Florida snake control prices:
Removal of snake from home or property: $89 on up
Price depends upon driving distance required. I will arrive at your home (in the greater Orlando area) as quickly as possible. However, if the snake has vacated the premises by the time of my arrival, I will search for it for a reasonable amount of time and a minimum charge of $89 stands.

If you have a persistent problem with snakes, I can modify the habitat and treat the area with a repellent in order to keep snakes from the area. If you have found a snake in your home, I will identify and eliminate the point(s) of entry. The price of this treatment is $200.00 *To learn more about this process, click here for details.

If you live outside of the greater Orlando area, these same fees apply, in addition to a time/travel expense fee of $1.00 per mile round trip from downtown Orlando.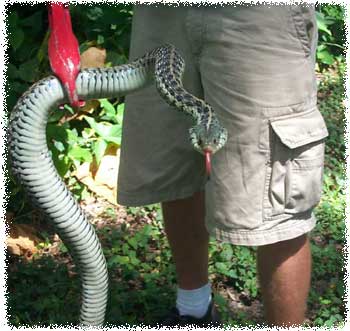 Call 407-278-2705 if you wish to hire me to take care of your snake problem.



To read more about snake control, go back to the snake removal page.